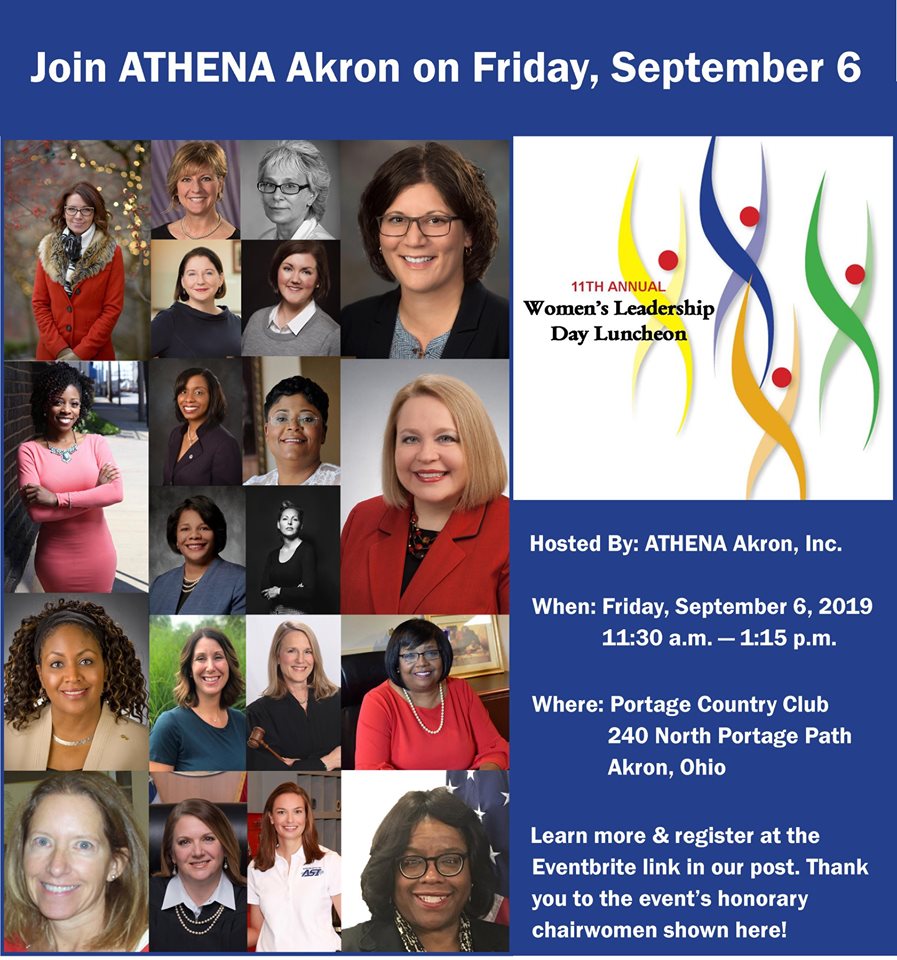 Join us for the 11th Annual ATHENA Women's Leadership Day Lunch taking place at Portage Country Club on Friday, September 6, 2019.
To learn more and to secure your spot, visit our Eventbrite page: https://bit.ly/2HeT52r.
County of Summit Executive Ilene Shapiro will emcee the event. Sherry Neubert, Chief Information Officer at The Goodyear Tire & Rubber Company and 2018 ATHENA Leadership Award Recipient, will present the keynote welcome.
The event's honorary chairwomen are:
–Karen Adinolfi, Esq., Shareholder, Roetzel & Andress and President, Akron Bar Association & Lawyer Referral Service
–Brenda Cummins, Donor Relations Officer, Cleveland Foundation
–Robyn Cutler, Council Director, Girls on the Run Northeast Ohio
-Krista Gesaman, Owner, Aeration Septic, Inc.
–Angelina Gingo, Attorney, Gingo Law Office
-Suzie Graham, President, Downtown Akron Partnership
–Pam Hickson-Stevenson, Executive Director, Akron-Summit County Public Library
-Ramona Hood, Vice President, Operations, Strategy & Planning, FedEx Custom Critical
-Jody Klase, Chief of Behavioral Health Services, Family & Community Services, Inc.
–Louise Mazur, Partner, Brouse McDowell LPA
–Fedearia Nicholson-Sweval, Ph.D., Dean of Student Success, Stark State College
–Tamiyka Koger Rose, Health Equity Ambassador, City of Akron, Ohio – Mayor's Office
-Judge Susan Baker Ross, Summit County Court of Common Pleas
-Judge Julie A. Schafer, Ninth District Court of Appeals
-Cheryl Stephens, President, East Akron Neighborhood Development Corporation (EANDC)
-V. Rena Suber, Chief School Administrator, Emmanuel Christian Academy
Elizabeth Walters, Summit County Council Member at-Large, City of Akron, Ohio – Mayor's Office
-Angela Wilcoxson, Senior Vice President and Sales Leader, KeyBank
–Shane Wynn, Owner, Shane Wynn Photography