ATHENA Akron presented a check for $1,000 to Dr. Judit Puskas for the Breast Cancer Innovation Foundation.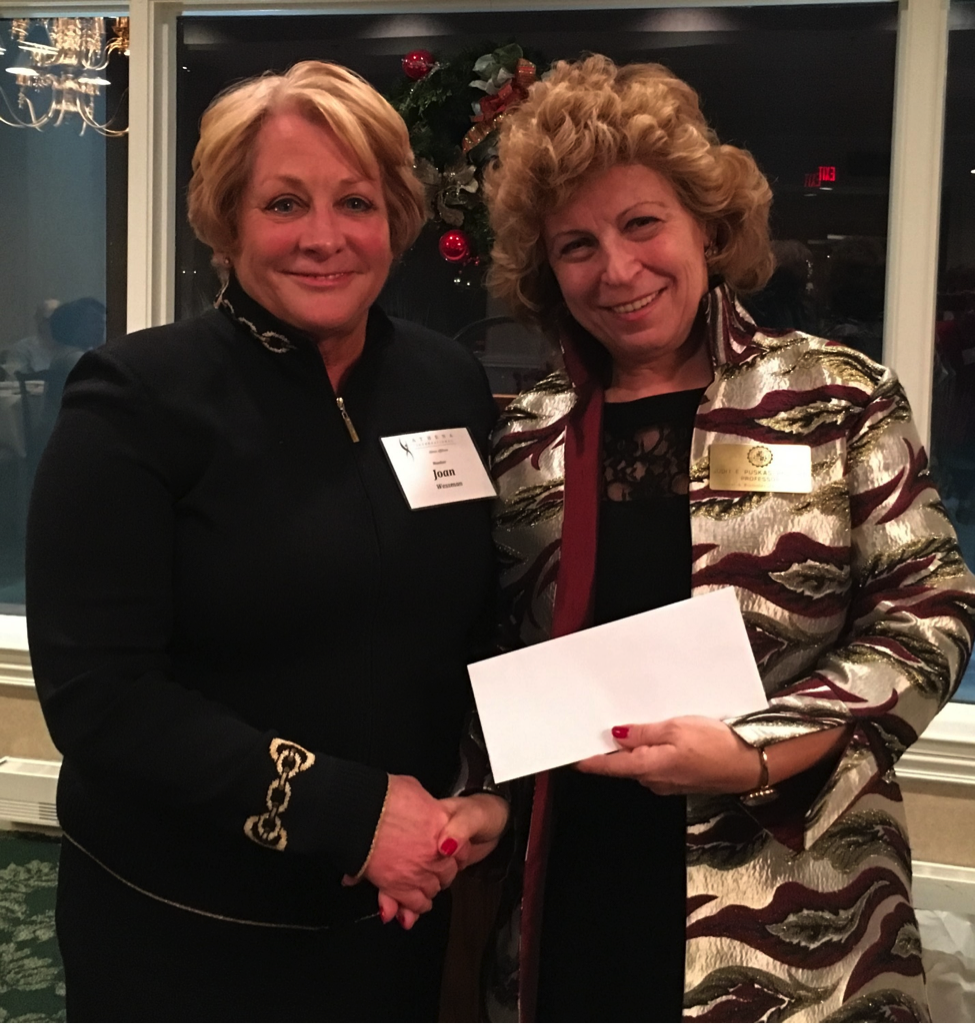 Akron, OH (Jan. 9, 2018) – To further its mission to bring together and support women leaders in Summit County, ATHENA Akron presented a $1,000 donation to the Northeast Ohio-based Breast Cancer Innovation Foundation at the ATHENA Akron annual meeting held at the Fairlawn Country Club in December.
The Breast Cancer Innovation Foundation funds innovative, local breast cancer research for a breast implant that treats cancer.
At the 2017 ATHENA Akron annual Women's Leadership Day Luncheon, the organization designated part of the proceeds from the event to support the Breast Cancer Innovation Foundation and the work of Dr. Judit Puskas, a materials scientist at the University of Akron College of Engineering.
"One of our goals is to connect established women leaders in the region, so a donation to Dr. Puskas' organization was a natural fit for us. Our members were able to contribute to another woman's innovative work," shared Joan Wessman, President of ATHENA Akron. "We are thrilled she's working here in Akron on such a potentially revolutionary advancement."
Dr. Puskas' invention is a drug-eluting tissue expander for breast reconstruction and may radically improve the quality of life for breast cancer patients throughout the world. The foundation's current goal is to raise enough funds to support moving Dr. Puskas' innovation into clinical trials at The Cleveland Clinic so that she can bring to market a breast implant which can detect and cure cancer.
"Thank you to everyone from ATHENA Akron for the generous donation," said Professor Judit E. Puskas. "We aim to improve a more efficient and less invasive treatment of breast cancer to patients, so that the side effects associated with chemotherapy are reduced or completely eliminated."
About the Breast Cancer Innovation Foundation
The Breast Cancer Innovation Foundation is a 501(c)3 nonprofit organization founded in Akron, Ohio in 2012 by Carole and Robin Reid. Originally known as the Carole & Robin Reid Foundation, our name changed to the "Breast Cancer Innovation Foundation" in 2014. The mission of the Breast Cancer Innovation Foundation (BCIF) raises funds and donates to universities and charitable research institutions conducting breast cancer research that will benefit women, by transferring innovations from the laboratory to the bedside.
About ATHENA Akron
ATHENA Akron, Inc. is a nonprofit organization founded as the first affiliate of ATHENA International. The goals of ATHENA Akron are to connect established women leaders, provide access to established women leaders and offer leadership development. For more information visit the website at www.ATHENAAkron.org.