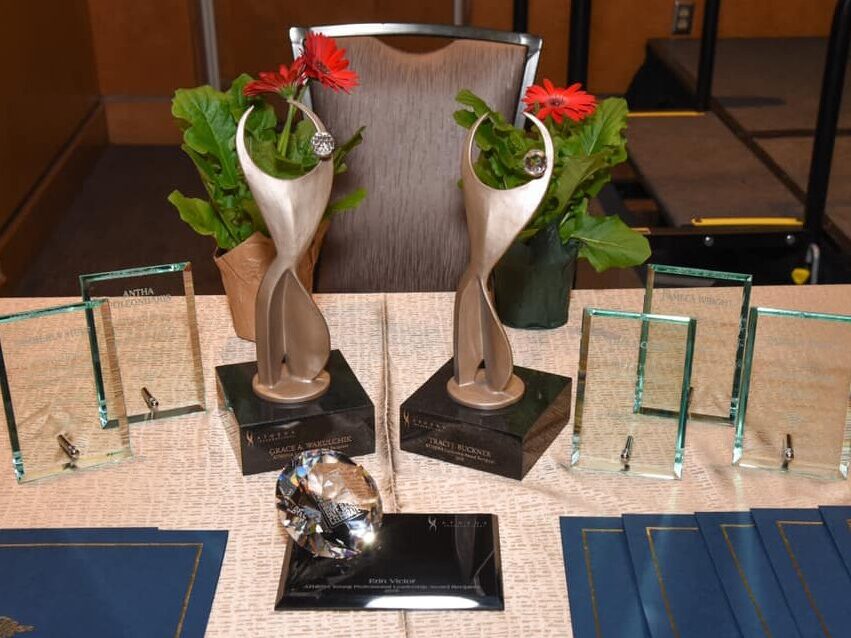 Award Recipients include Dr. Angela Neal-Barnett and Moriah Cheatham Williams
Akron, OH (August 2022) — The annual ATHENA Akron Leadership Awards event will be held Thursday, November 17, 2022,at Hilton Akron/Fairlawn, 3180 West Market Street, Akron. "The award's rich history, international scope, and focus on mentorship distinguish it as one of the most prestigious leadership awards one can receive," shares Rebecca Guzy Woodford, ATHENA Akron's Board President.
The ATHENA Leadership Award is inspired by the goddess of Greek mythology known for her strength, courage, wisdom and enlightenment. It honors an exceptional individual who has achieved the highest level of professional excellence, contributed time and energy to improve the quality of life for others in the community, and actively assisted others – particularly women – in realizing their full leadership potential.
ATHENA Akron is pleased to announce that Dr. Angela Neal-Barnett, Professor, Kent State University Department of Psychological Sciences, will be honored as the ATHENA Leadership Award Recipient. Additionally, ATHENA Akron will honor the following Leadership Award Finalist Honorees: Barbara Feld, Director of Development-Summit, Apollo's Fire; Rochelle Sibbio, President & CEO, Habitat for Humanity of Summit County, Inc.; and The Honorable Nicole Walker, Akron Municipal Court Judge.
The ATHENA Young Professional Leadership Award honors an emerging leader who demon-strates excellence, creativity, and initiative in their business or profession, and serves as a role model for young women personally and professionally. Moriah Cheatham Williams, Esq., Roetzel & Andress, will be honored as the 2022 ATHENA Young Professional Leadership Award Recipient. Additionally, ATHENA Akron will honor the following Young Professional Leadership Award Finalist Honorees: Anne Kichurchak, Co-Founder and Director of Community Outreach, Hope Meadows Foundation; and Michelle Togliatti, Co-Founder and Executive Director, Hope Meadows Foundation.
ATHENA Akron will present an organizational leadership award to Girls on the Run Northeast Ohio. This organization gives back to the larger community of women and girls by providing leadership development, opportunities and initiatives.
This year's ATHENA Leadership Award recipients will join more than 80 women leaders who have been honored as local recipients or finalists of this important award. Since 2003, the following persons have been recognized as ATHENA award recipients: Norma Rist (2003), Dr. Carol Cartwright (2004), Debra Adams Simmons (2005), Dr. Cynthia Capers (2006), S. Theresa Carter (2007), The Honorable Ilene Shapiro (2008), Jacqueline Silas-Butler, Esq. (2009), Dr. Daisy Alford-Smith (2010), The Honorable Elinore Marsh Stormer (2011), Candace Campbell Jackson, Esq. (2012), Dianne Newman, Esq. (2013), Laurie Zuckerman (2014), Terri Heckman (2015), Sylvia D. Trundle (2017), Judith E. Barnes Lancaster, Esq. (2017), Sherry Neubert (2018), Traci Buckner (2019), Grace A. Wakulchik (2019), Jolene A. Lane (2020), Donna Skoda (2020), and Greta Johnson (2021).
The previous ATHENA Young Professional Leadership Award Recipients are Danielle Kimmell, CPA (2010), Julia Hall, CPA (2011), Betsy Bare Hartschuh, Esq. (2012), Kristin Oswick (2013), Angela Bayes (2014), Jennifer Hertzig (2015), Laura Wallerstein, Esq., (2017), Da'Shika Street (2018), Shane Wynn (2018), Erin Victor (2019), Alicia Robinson (2020), and Shaleeta Smith (2021).
Corporate and individual sponsorship opportunities for the ATHENA Leadership Awards event are available and range from $250 to $5,000. For sponsorships, tickets, or additional information about the evening of inspiration, please email [email protected] or contact Rebecca Guzy Woodford at (330) 760-0996 or [email protected].