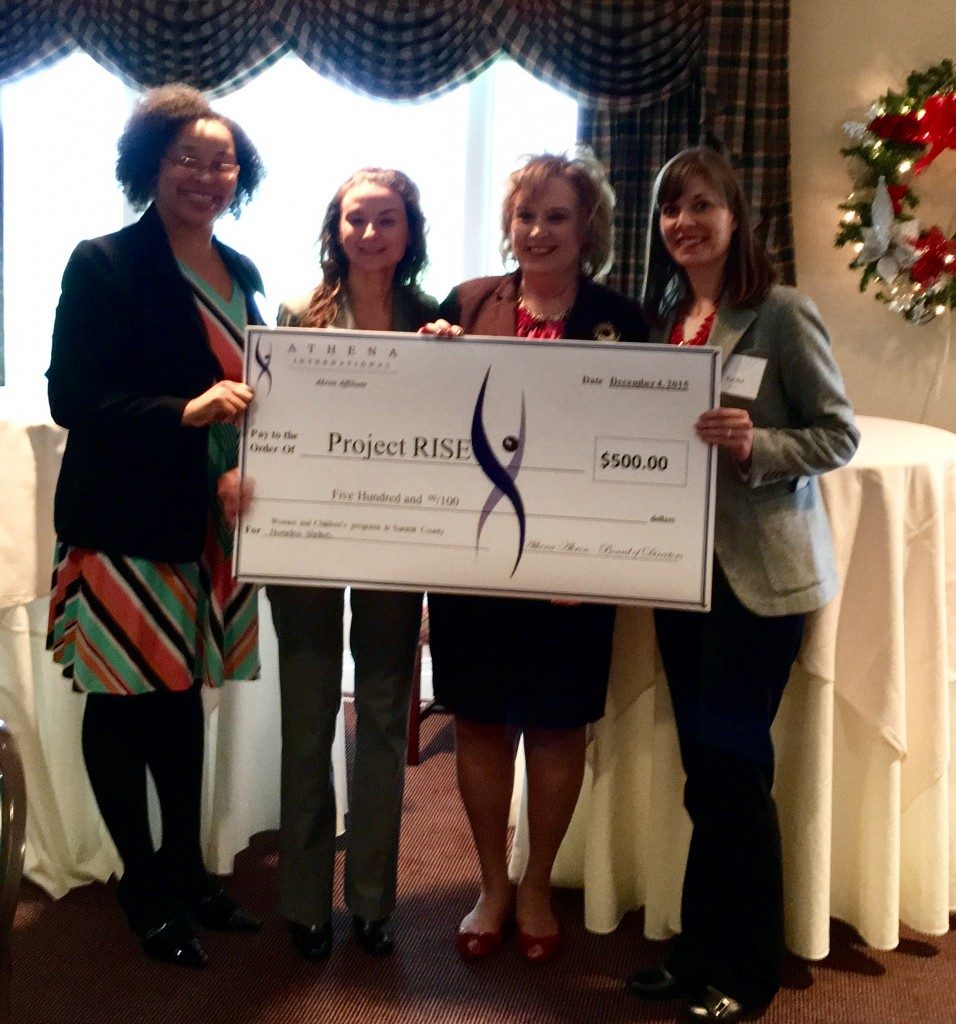 (From left) Patricia Smoot Wicks of PATHworks!™ and Laura King of Bruner Cox presented a $500 donation on behalf of ATHENA Akron to Debra Manteghi and Rachel Breece of Project RISE to help their organization keep homeless children in school.
AKRON (Dec. 4, 2015) — ATHENA Akron presented a check for a $500 donation to Project RISE at the monthly Leadership Forum held at the Fairlawn Country Club.  Project RISE helps Akron children who are homeless to continue to stay in the Akron Public School system despite their living situation.
"Thank you to everyone from ATHENA Akron for the generous donation," said Debra Manteghi, Director of Project RISE.  "We are on track this year to help over 2200 homeless children ages 3-18 years old in the Akron area."
When ATHENA Akron held their annual Women's Leadership Day Luncheon in September, the organization designated part of the proceeds from the event to go to support Project RISE.
Project RISE works through the Akron School System but receives funding federally, as well as grants and donations to provide services. "The state of Ohio has legislation in place for each of the school systems to have services to help keep homeless children in school," said Manteghi.  "Because there is never enough funding available, we are very grateful for donations."
About Project RISE
Project RISE (Realizing Individual Strength through Education), under the Office of Student Services, is a collaborative effort by Akron Public Schools, local shelters, and the community.   It is a federally funded program, facilitated by Ohio Department of Education, through the McKinney-Vento Homeless Assistance Act: Education for Homeless Children and Youth Programs.  The main purpose is to remove barriers to the educational process and success of students who have lost their housing due to hardship.
About ATHENA Akron
ATHENA Akron, Inc. is a nonprofit organization founded as the first affiliate of ATHENA International. The goals of ATHENA Akron are to connect established women leaders, provide access to established women leaders and offer leadership development. For more information visit the website at www.ATHENAAkron.com.